When you hear the word Web Design, what's the first word that comes to mind? Pretty, attractive, color scheme? It's very common for people to think of a website as a form of art online. In essence, web design is considered a digital art form. However, Web Design is much more than making a site look pretty.
Effective web design includes site structure, usability, functionality, and so much more. In this article, we are going to explore the building blocks to an effective web design.
Web Site Structure is an Important Element in Web Design
An important element of Web Design is the structure of the site. This has to do with the platform used to present content on your website. You can use straight HTML, PHP, CSS or other coding options, or you can use a script, such as WordPress or Joomla. Each of these options presents its own pros and cons, and they can all affect search engine rankings.
The biggest issue presented with structure and SEO is about the code used. For instance, bulky code that includes many errors or additional coding that isn't necessary can cause your website to load slowly. Search engines tend to favor faster loading websites, so this can affect your SEO rankings. To deal with errors you can use the W3C Markup Validation Service. This tool will comb your website for mistakes so that you can fix any problems that are affecting your websites ability to perform at its best. When your site is structured perfectly, it makes it easy to use and navigate the site.
Usability is Crucial to the Success of an Effective Web Design
Usability of a website refers to how easy it is for new visitors to navigate the site, find what they are looking for, and interact as necessary. When visitors come to your website is it easy for them to find the navigation? Can they go from one page to another, and then backtrack to the home page? Or do they get lost and, possibly leave in frustration? A good Web Design company will be able to create sitemaps and a site structure that will make your site easy to navigate for search engine spiders as well as human visitors.
Readability is another important element of Web Design
Readability is another element of Web Design and this pertains to how easy it is to read the website. Many website owners do not know that black text on white background is the easiest text to read. While black backgrounds can look fun and modern, it's uncomfortable for the average reader. Keep this in mind while choosing colors for your site, and always choose a dark text on light background.
Website Functionality is the Key to Effective Web Design
Functionally on your website should be easy to interact with. This isn't generally an issue for content only websites, but it is an issue for websites that offer any interaction methods. For instance if you have a blog where visitors can comment on your posts, it needs to work properly.
On forums or other communities, visitors expect the website to flawlessly move from allowing them to post, to viewing their new post. When things aren't working properly the errors can affect SEO over time and traffic to the site. In general a visitor who continues to get frustrated while visiting a website is less likely to return to it.
Functionality of a website can include but is not limited to making sure:
Links are not broken or incorrect
Making sure all downloadable content is easy to access
A proper search function that allows visitors to get to content in a few seconds
Webmaster tools on Google, a free tool, will crawl your website looking for links that do not work and other issues that affect functionality.
In conclusion web design isn't just about how pretty a website is, it's about how well it functions, how easy it is to use, how easy it is to read, and coding used to build the site too. As long as you take the time to work out each of these elements when building your site, you will have a successfully designed website that is pleasing for your visitors.
Summary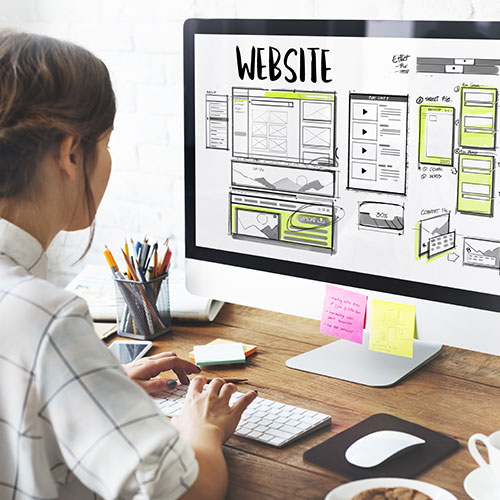 Article Name
Web Design Is Much More Than Designing A Pretty Website
Description
An important element of Web Design is the structure of the site. This has to do with the platform used to present content on your website.
Author
Uinta Digital
https://www.uintadigital.com/blog/wp-content/themes/uinta/images/logo.png